The Knickerbocker Snowstorm

January 27-29, 1922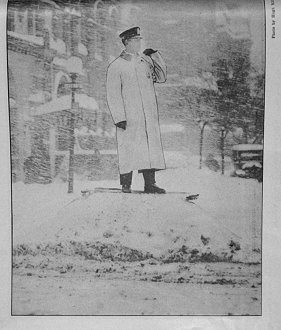 A police officer directs traffic (Washington, D.C.). Snowfall amounts included: Baltimore: 26.5"; Boston: 0.1"; New York City: 6.5"; Philadelphia: 12.3"; Richmond: 19.1"; and, Washington, DC: 28.0"

Account from Washington, DC: "Street car traffic was paralyzed this morning [January 28]. Thousands of Government employees residing in outlying sections were compelled to walk because of the tie-up of street car service. They struggled through the knee-deep snow in armies, monopolizing the streets that had been swept somewhat by railway snow plows... The sidewalks were impassable. Street cars, unable to make the switches because of snow jams, in many instances jumped the tracks.

Source: "Capital is Snow-Bound," The Washington Times, January 28, 1922.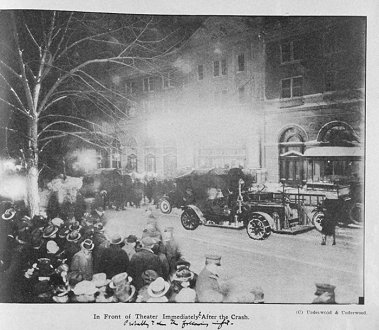 In front of the Knickerbocker Theater after its Interior Collapsed (Washington, D.C.)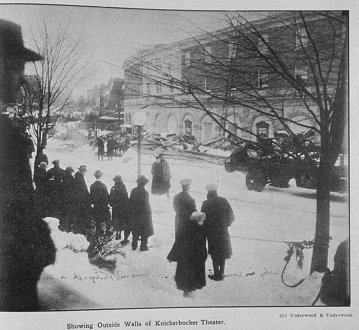 Outside Walls of the Knickerbocker Theater after its Interior Collapsed (Washington, D.C.)

Source of the above three photos: NOAA Historical Photo Collection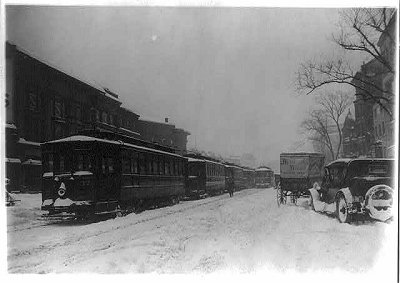 Trolley tie-up on January 28, 1922

Source: Library of Congress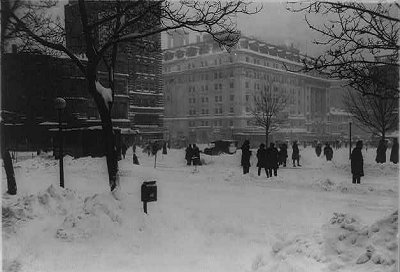 15th Street and Pennsylvania Avenue (Washington, DC) on January 29, 1922

Source: Library of Congress