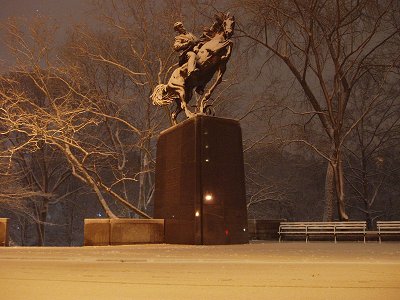 Early into the storm at Central Park (New York City). Snowfall amounts included: Allentown: 15.2"; Atlantic City: 4.2"; Baltimore: 13.1"; Boston: 17.5"; Bridgehampton, NY: 9.0"; Bridgeport: 13.5"; Danbury: 26.0"; Fairfield, CT: 30.2"; Harrisburg: 5.0"; Hartford: 21.9"; Islip: 19.9"; Leesburg, VA: 12.0"; New Rochelle, NY: 21.3"; New York City: 26.9"; Newark, NJ: 21.3"; Norton, MA: 15.0"; Philadelphia: 12.0"; Providence: 9.4"; Robbinsville, NC: 19.0"; Wilmington, DE: 14.4"; and, Worcester: 16.9"

News account:

A total of 26.9 inches fell in Central Park, the most since record-keeping began in 1869, the National Weather Service reported. In what weather experts called a remarkable and relentless fall that began late Saturday afternoon [February 11] and ended late yesterday [February 12], it eclipsed the legendary blow of Dec. 26-27, 1947, which dropped 26.4 inches...

Announcing itself at dawn over New York with theatrical claps of thunder and lightning that roused some people from sleep, the storm dropped snow at phenomenal rates of 3 to 5 inches an hour between 7 a.m. and early afternoon, obliterating the skyline  and anything more than a few feet away... Central Park was a setting from a storybook. Children dragging parents dragging snowboards and sleds converged on all sides in a daylong migration. Large dogs galloped through the drifted meadows of the Great Lawn, and cross-country skiers glided among joggers gallomping in snowshoes.

Source: Robert D. McFadden, "A Record Snow: 26.9 Inches Fall in New York City," The New York Times, February 13, 2006.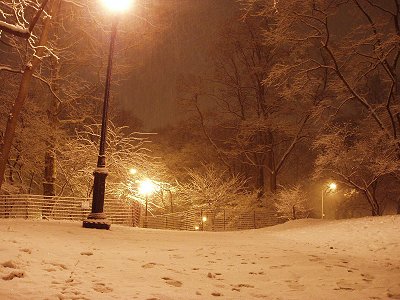 Early into the storm off Riverside Drive (New York City)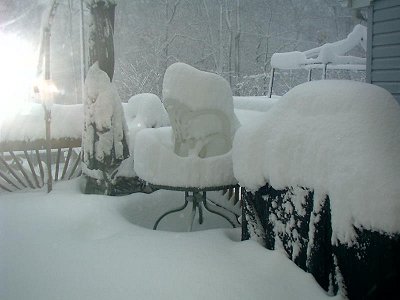 Aberdeen, Maryland

A special thanks to Luis from Aberdeen, MD for the above photo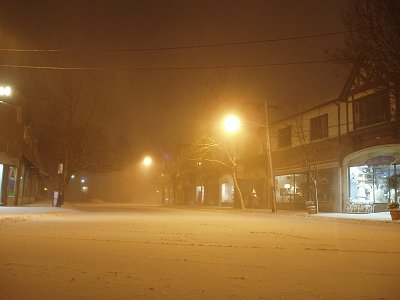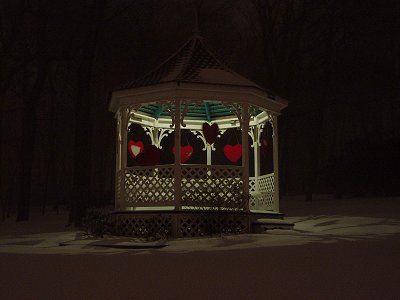 During thundersnow (Larchmont, New York)