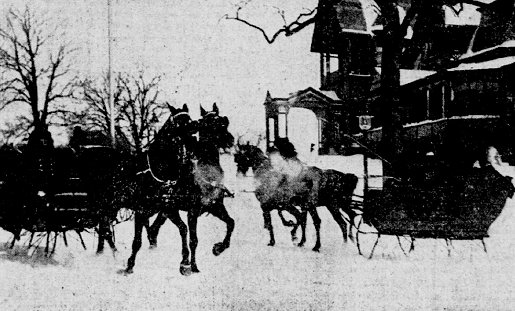 Sleighing in Central Park (New York City). Snowfall amounts included: Albany: 5.9"; Boston: 11.8"; Bridgeport: 12.5"; Cutchogue, NY: 14.0"; Hyannis, MA: 12.0"; New Bedford, MA: 16.0"; New London, CT: 23.0"; New York City: 8.0"; Philadelphia: 4.8"; and, Worcester: 10.4"

Source: The New York Tribune, January 4, 1904

News account from New York City: "Shivering under all the extra coverings in the house, the average New Yorker woke yesterday morning [January 3], looked out of the nearest window on streets piled high with dazzling white, on encrusted rooftops and obstructed sidewalks, and then turned over with a long, lazy sigh and went to sleep again, devoutly thankful that it was Sunday and he didn't have to go out. If, however, he happened to look at the thermometer before going to sleep again, all desire for sleep left him, for the mercury was hovering perilously near the zero mark, and brought up with a start to find it so cold, he hustled around to stir up the furnace or make the janitor turn on more heat."

Source: "Cold Brings Suffering," The New York Tribune, January 4, 1904.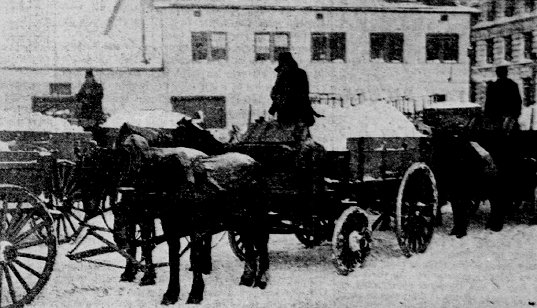 Cartloads of snow arriving at the Battery (New York City)

Source: The New York Tribune, January 4, 1904

Shoveling snow in front of the Post Office (New York City)

Source: The New York Tribune, January 4, 1904